Every year millions of people around the world wait impatiently for the 14th of February to celebrate their favorite romantic holiday. It's therefore no surprise that gift-buying skyrockets the week before Valentine's. Here are some great ideas of how you can use Visual QR Codes to excite your customers with some special Valentine offers that will get everybody in the holiday mood.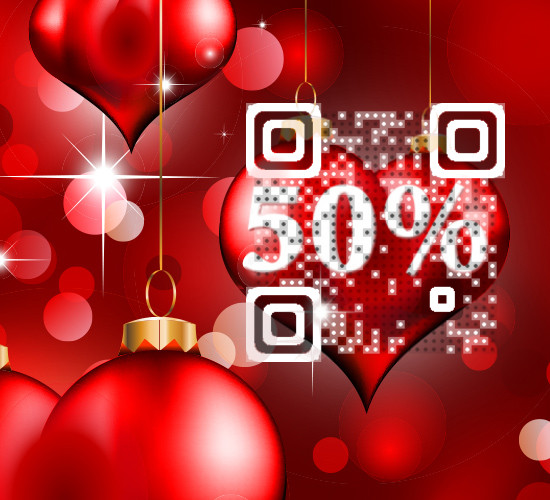 1. Share the Joy
Offer your customers several Valentine e-cards options that they can send to their loved one after a purchase, simply by scanning the Visual QR Code on your product or in your store. Another easy option is to provide them with a Visual QR Code they can scan to tweet "I love you" to their sweethearts. Your customers will enjoy the simplicity and appreciate the opportunity you provided them to express their feelings.
2. Cupid's Coupons
Get into the lovey-dovey spirit by offering your customers a coupon or discount on your Valentine products when they scan your Visual QR Code online. Everyone likes to catch a deal and they'll be flocking to your business in no time to stock up on Valentine goodies.
3. Sweep them off their feet with a sweepstakes campaign
Offer your customers the opportunity to scan a Visual QR Code after their purchase to Like your business on Facebook. Reward all the scanners by enrolling them in a sweepstakes campaign with a cool prize, like a romantic holiday getaway. You get to promote your business and they get to fantasize about their dream vacation – all with a simple scan.
Visual QR Codes are incredibly easy to create and consumers like to scan them because they are appealing and intrigue the imagination. Visual QR Codes allow you to approach your customers with attractive, holiday-themed offers that they're more likely to engage with. Check out Visualead.com for our special collection of Valentine-themed images that you can use for this up-and-coming holiday.
Got a great idea for using Visual QR Codes on Valentine's Day? Share it with us!
Related Posts