Today, printing QR Codes is super popular and QR Codes are popping up everywhere you look – shop windows, item tags, posters, advertisements and sometimes even TV commercials. QR Codes are known for their useful ability to transfer people from the offline world of print to the mobile online world in one simple scan and people are continuously looking for more creative ways to utilize their QR Code that will help them get the exposure they need. Searching for an awesome way to get your QR Code out there? Start thinking out of the box and print your QR Code on these cool items.
Printing QR Codes
* The first item of interest is of course, the business card – classic and extremely useful. You can have your QR Code lead to your personal website, your vCard or even a mobile site for your business. Spice up your business look by using a Visual QR Code which will give your card that special touch that will make it memorable.
 * Want to elevate your business to be one step ahead of the crowd? Offer your customers various items with your business's Visual QR Code printed on them. Popular examples are stickers, calendars, and mugs. Your customers will appreciate the extra touch and be encouraged to contact you via the QR Code.
* Send a personal note to a loved one with a Visual QR Code leading to a favorite YouTube video or special text message that you've printed on a canvas, mug or even an iPhone case. They'll be able to replay your message every time they see your code.
* Advertise your business big time by printing your QR Code on t-shirts where they can be scanned by everyone who sees you. You'd be surprised about the amount of interest that can be generated by a Visual QR Code on a t-shirt – people are often impressed by the attractive design and are curious to see where the code leads to.
So don't stick with the crowd! Stun your customers with your out-of-the-box, exciting QR Code items.
Want to see what print options you have for your Visual QR Codes? Press "Print" under your Visual QR Code in your dashboard at Visualead and you'll be able to choose from our store at Zazzle.com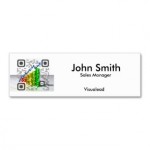 Related Posts